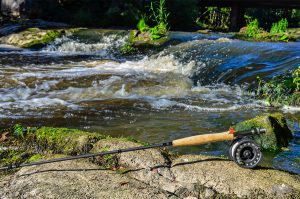 Why has fishing not been prominent in the Smokies, along with the many other leisure activities available in the park?  Until recently fishing in the Smoky Mountains has been limited due to ecological danger to the brook trout, the native to our streams.  The brook trout were almost non-existent in the park waters in the early 1900's, when logging operations left the streams silted and degraded. Then, non-native rainbow and brown trout were introduced to park streams for fishermen. Those fish outcompeted the brook trout and virtually replaced them in most streams. Recently biologists have determined that the population can survive recreational fishing.
For the first time in 81 years, every stream in the Great Smoky Mountains National Park is open to fishermen.  The park still wants to ensure the long-term protection of a unique species by preserving a healthy, reproducing population of brook trout. It also wishes to provide the opportunity to experience the Southern Appalachian tradition, heritage, and culture associated with brook trout fishing.  Right now to help preserve the trout population there are restrictions in place.  There is a 7-inch size limit, 5 fish possession limit and fishermen can only use a single hook with artificial lures. In addition to fish restoration projects, park biologists are also working hard to improve water quality across park streams. These continued efforts to improve water quality and restore native fish populations will expand habitat for all fish species and these fish-bearing streams.
For more information on fishing guidelines please go to the National Park Service's website.
Statistics and information about the project found in articles from WBIR and the Knoxville Daily Sun.
Also, check out Bear Camp Cabins for your fishing expedition!