Thinking about a Gatlinburg Cabin vacation?
What are the greatest things to do in the mountains that really connect someone to the core of Appalachian culture?
Hike the trails of the Smokies.
Ride horses through the countryside of the valleys.
Fish the rivers and lakes in Sevier County.
That last one is particularly important as fishing is the most universally enjoyable for visitors who come to the Smokies – everyone around the world knows the importance of fishing to the nature and history of humanity and it's the most relaxing way to get in touch with nature as the activity allows a wider age-range of people to participate. The Smoky Mountains have a lot of fishing opportunities within city limits: the Great Smoky Mountain National Park's rivers and lakes, Dandridge and Douglas Lake and our favorite fishing tournament – the Smoky Mountain Trout Tournament coming up on April 1st and April 2nd.
Rocky Top Outfitter hosts this semi-annual tournament each Spring and Autumn and invites everyone from children to adult and local to visitor to participate. From their website:
"Don't miss out on the fun and excitement of the 19th Annual Smoky Mountain Trout Tournament! Fun for all – adults, children, tourists and locals. Over 10,000 trout will be stocked in over 20 miles of streams prior to this 2-day event! Over $10,000 in cash & prizes! Don't miss out on your chance to be a part of the largest trout tournament in the Smokies!"
The Smoky Mountain Trout Tournament is held throughout Gatlinburg and Pigeon Forge. Thousands of fish will be released into the streams and rivers beforehand to give participants a good chance to catch a winner. For the Spring Tournament, the prizes include: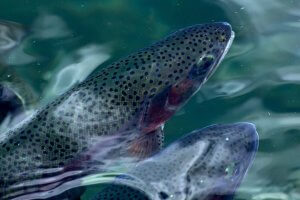 * $500 for largest trout
* $500 for smallest trout
* Gift Certificates
* Trophies
* Fishing Equipment
* Hotel / Motel Accommodations
* Amusement Passes
* Much, much more!
Fishing times are 30 minutes before sunrise until 4:00PM on April 1st and 30 minutes before sunrise until 2:00PM on April 2nd. You must have a valid fishing license to enter and there is a participation fee. You can register online through Rockytopoutfitter.com, by calling 865-661-3474 or by registering in person at Gatlinburg's Winery Square at the Smoky Mountain Angler store.
Rules and additional information (from the Rocky Top website) include:
* Single hook only; 1 hand-held rod; five (5) fish limit.
* NO fishing on Friday before the event.
* Rainbow Trout only will be weighed.
* Smallest trout must be 7 inches; no dry fish will be weighed.
* Participants may not fish with individuals not entered in the tournament.
* All trout must be at weigh-in located at Patriot Park, Pigeon Forge, traffic light #7 by 4 p.m. on Saturday & 2 p.m. on Sunday.
* Tournament hours: 30 minutes before sunrise – 4:00 p.m. Saturday and 30 minutes before sunrise – 2:00 p.m. on Sunday.
* Winners will be determined by total weight of the 2-day tournament.
* All Gatlinburg and state regulations will be observed.
* All participants will be subject to a polygraph test.
* Smoky Mountain Trout Tournament officials reserve the right to disqualify any participant.
* Participants must be present at weigh-ins to win.
* Drawings for prizes will be held at each weigh-in.
* Register for the Trout Tournament at Rocky Top Outfitters via our Online Registration Form, by phone,  or in person @ Smoky Mtn Angler Gatlinburg. (469 Brookside Village Way Gatlinburg, TN 37738 In Winery Square)
* Late registration: Register Friday (cash only) 6 p.m. – 11 p.m. in person @ Riverside Motor Lodge in Pigeon Forge. (3575 Parkway Pigeon Forge, TN 37863)
* Tournament Waters: West Prong Little Pigeon River from the National Park boundary in Gatlinburg, downstream to the Sevierville City Park bridge and it's tributaries. (Roaring Fork, LeConte Creek, and Dudley Creek).
So if you're coming to the Smokies on April Fool's weekend, bring some rods and bait with you and you could win some awesome prizes just for enjoying one of the best things to do in the Smokies!