The Great Smoky Mountains are the ideal destination for a Christmas vacation! Home to magnificent natural beauty and special seasonal entertainment, East Tennessee is truly a winter wonderland around the holidays. When you stay at a Smoky Mountain cabin this year, your family will experience the area's magic firsthand. Here are five reasons why you should choose Bear Camp Cabin Rentals for your Christmas vacation.
1. Cabins Let You Combine Christmas With a Family Reunion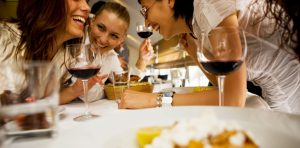 Christmas is the perfect time to bring your extended family together, and our cabins are the perfect place to do it! We offer a great selection of five bedroom cabins in Pigeon Forge and Gatlinburg with space for up to 12 people. You can enjoy the rustic ambiance of a cabin with a fireplace as you catch up on the latest family news and enjoy holiday meals together. When you choose one of our cabins with a home theater room, you can watch Christmas movies with your family while you wait for Santa to visit. Many of our cabins are secluded, so guests can have the experience of being immersed in nature. At the same time, you are never far from the cities of Gatlinburg or Pigeon Forge, so you never feel too isolated.
2. You'll Be Close to Local Holiday Events  
The Great Smoky Mountains area has many things to do during the Christmas season. The Smokies are home to a collection of wonderful restaurants where you can enjoy holiday meals when you don't feel like cooking. From November 10 through February 27, the Smoky Mountains will be celebrating its annual Winterfest. This fantastic tradition includes millions of LED lights in downtown Gatlinburg, Christmas parades in Sevierville and Gatlinburg, and a Christmas Wonderland at Smokies Stadium. For a sneak peak at some of this year's holiday activities, check out our blog Christmas Comes Early to Wears Valley With 3 Great Events.
3. Cabins Are in a Pristine Natural Setting
A Smoky Mountain cabin gives you a chance to bask in the beauty of nature, which provides a good contrast to all the holiday hustle and bustle. Our cabins provide majestic views of the Great Smoky Mountains, and you can admire your surroundings by simply looking out the window or stepping onto the terrace. This peaceful setting allows you to kick back and relax as you celebrate the holidays with the people you love.
4. The Smokies are a Paradise for Winter Sports Lovers
You can find all kinds of winter sports in and around Gatlinburg during the holiday season. Ice skating, snowboarding, and skiing are nearby at Ober Gatlinburg, which also has an amusement park that the whole family will enjoy. Open year round, the Great Smoky Mountains National Park is another great destination for staying active this winter. Although certain areas are closed for the season, there are still many roads and trails to explore in the national park. Many of our cabins offer excellent walking and hiking paths right outside your door.
5. Many Family Friendly Christmas Shows Nearby
Pigeon Forge is home to a number of fantastic theaters that hold annual Christmas performances, including Country Tonite, Lumberjack Feud, Dixie Stampede, Hatfield and McCoy Disaster Dinner Show, and the Smoky Mountain Opry. These shows are perfect for the whole family, and many of them even come with a full dinner.
Before you book your Christmas getaway at Bear Camp Cabin Rentals, visit our Smoky Mountain Cabin Specials page to learn how you can save money when you stay with us!