Thanksgiving, it need not be reminded, is one of the most important opportunities families get for that congregation for the year and we want to welcome you to consider Bear Camp Cabins for your Thanksgiving meal and time shared together.
The Hospitality industry of the Smoky Mountains is one of hard extremes; we work hard every day of the year to bring visitors the vacation they've long-since deserved to take, we face many challenges on an hourly basis and have to act quickly to succeed at them; all while trying to stay ahead in a line of work that competes with over 100 other cabin companies in this county alone. On the other side of it, though, is the knowledge that we provide a needed service to many families and groups that come here. Vacation, rest, luxury, good vibrations… all of these things are as essential to a healthy human being as food and exercise, and we are thankful to know that when it comes time for those families and groups to choose important times for warm-hearted congregation, they choose to have Bear Camp Cabins provide for them.
Just imagine it – waking up on the morning of Thursday, November 23rd in a beautiful, family-sized cabin surrounded by the immaculate bliss of the Smoky Mountains. It's been years since you slept under the same roof as your parents. The big HDTV is already on with either pre-game coverage on for your dad or cartoons for your kids. A tablecloth, silverware and other dining decor are already out in preparation for the feast to come. Mom's on the phone getting other plans for the day underway. You've got a few hours before the real work has to get started, so you rotate between:
Enjoying some morning coffee and a light breakfast out on the deck and get caught up on your laptop or tablet as the crisp mountain air reminds you that you're on vacation and you should give the computer a break and go get that book you brought with you.
Playing a few rounds on the pool table, air hockey table, foosball table (or whichever table might be available) with any family members or friends not currently occupied.
CLICK HERE FOR A LIST OF CABINS WITH POOL TABLES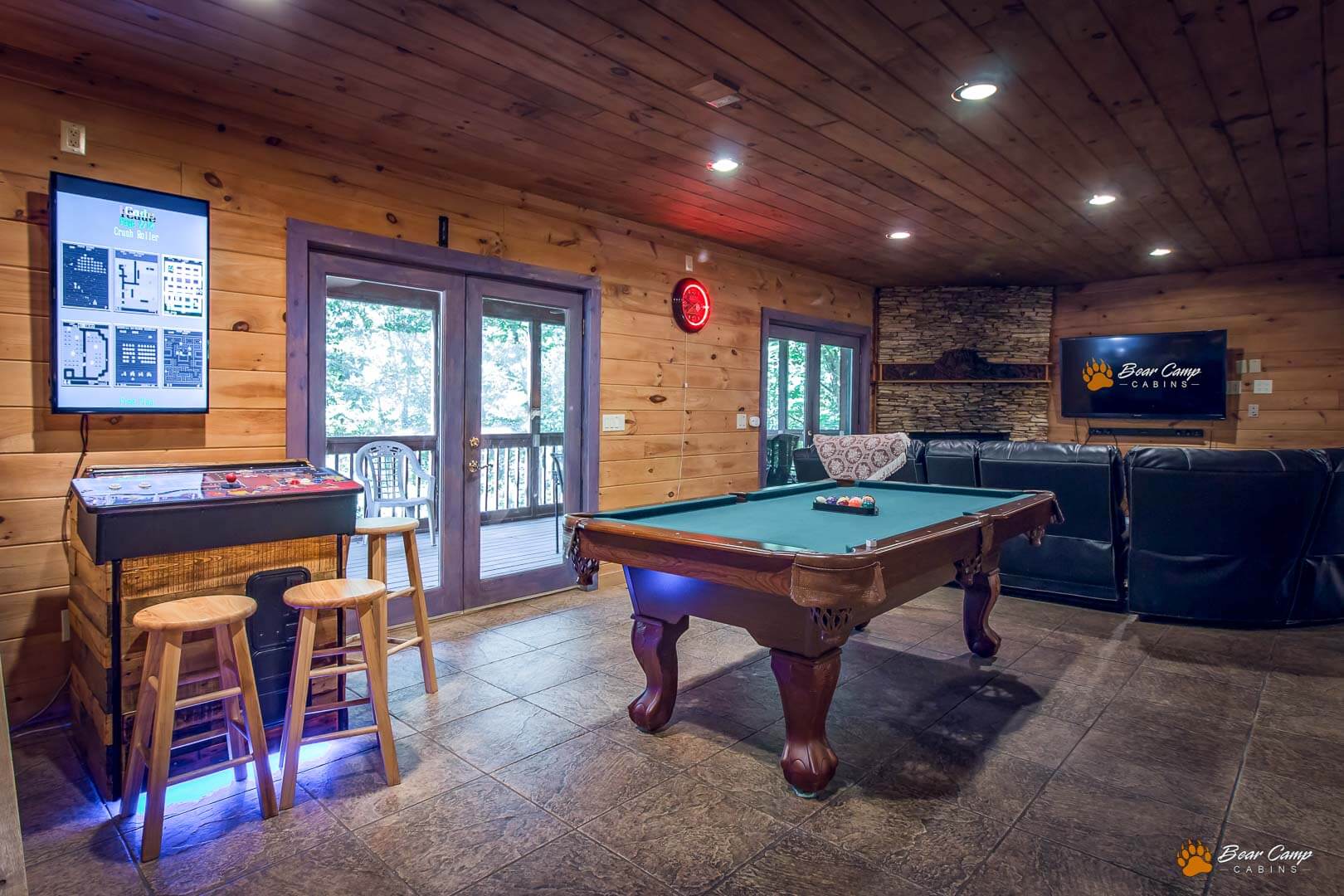 An early day soak in the hot tub and some open-eyed meditation as you gaze out to the miles of gorgeous views spread out in front of you. Their hypnotic influence brings you to a primordial state of being, layers of work-related stress start vanishing until you can't even remember what it is you do from 9 to 5 every day.
Then you hear your name being called and it's time to help pitch in. The fully equipped kitchen is being made to good use with the turkey, stuffing, mashed potatoes, casserole, yams, cranberry, and pie all being prepared. The kids enjoy themselves to the copious amenities inside and out and grandpa occasionally joins them to help keep them occupied and expending calories to make way for the feast. You hear them screaming for all the fun they're having and know they're creating memories that will last a lifetime… at the same time you are.
"Ding-ding-ding-ding-ding-ding!" your mom calls out to the group with an adequate imitation of a dinner bell signaling that, at long last, the food is almost ready to serve and everyone needs to come inside, wash up and start helping preparing the table. The family is quick to wash-up as the cabin thanks to many washrooms the vacation house occupies for this reason and many others. You pause an argument over some anime show to assign some table-setting duties. The dishes we stock our Bear Camp Cabin houses with come out of the cupboards and follow the traditional settings along the exquisite family-sized dining table.
Everyone takes their seats. A short speech about how wonderful it is to have the family together this year and a prayer prelude the feast. Then the turkey is brought out and set where everyone can reach it. The sun shines through the large windows and makes the event that much brighter. Everything comes together just as everyone has come together.
It is bliss.
It is heaven on Earth.
It is Thanksgiving in the Great Smoky Mountains.
Whether you get the chance to come for Thanksgiving or another time here in the holiday season, we'd like to invite you to create and share new family memories with us at Bear Camp Cabins. See our available family-sized cabins at https://www.bearcampcabins.com/find-a-cabin/.