Get ready, folks! The first Rod Run of the year is coming to Pigeon Forge between April 6th and the 8th for Spring 2017 and if you thought the mountains were colorful with all the Spring blooming going around, you haven't seen anything until you've seen the parkway line up one end to the other with incredible vehicular works of art!
Make no mistake, the Pigeon Forge Rod Runs are quite possibly the biggest car shows in the nation and for good reason. Even if you only have a passing interest in hot rods, classic cars or the really cool things people can do to customize their vehicles, the Rod Run has a lot to offer. The Rod Runs effectively serve as city-wide parties as the sidewalks and parking lots fill to the brim with amateur and professional car customizers alike with cars for display, cars for sale, merchandise, music and other fun stuff that almost everyone participating can enjoy. Naturally, this means a LOT more traffic in town and thusly the Rod Runs tend to have strongly divided opinions for locals and other visitors alike, but the strength of the Rod Runs is such that even those who detest this time of year (and the Runs in September) can appreciate the awesome work the customizers bring to town and let it give them a worthy distraction from everyday business if they allow it. If you know the backroads and plan accordingly, the Rod Runs can all fun and minimal hassle!
The Spring Rod Run truly takes place, however, at our famous LeConte Conference Center between Teaster Lane and the main parkway (near and connected to the huge parking for The Island). There, many of the customizers will be competing for prizes. There is an $8,000 cash giveaway for the grand prize winner as well as Top 25 Awards, Ultimate 5 Awards, door prizes and more. As usual, there will also be a huge swap meet with lots of things for enthusiasts and casual fans alike to be interested in. Special guests for this year include Scottie D (from the popular Youtube channel Scottie DTV) and his 12 handpicked cars along with Stacey David from the show GearZ. Scottie D will be in attendance for all three days while Stacey David will be attending for Thursday and Friday.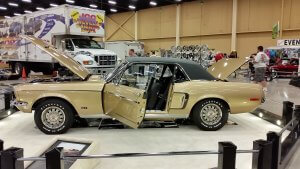 Attending the Rod Run as a spectator requires a $12 admission fee. Sponsors for the event include:
* Danny's Rod Shop
* Ausley's Chevelle
* Camaro Central
* Asaperformance
* Tennessee Moonshine
But no matter how you want to approach the Rod Run (either to fully embrace it, stay far away from it or somewhere in between), you'll want a Bear Camp Cabins cabin to call home while staying in the Smokies for that weekend. Not only will all the hotels around the event be fully occupied by then, but how are you going to get any sleep being dead center in the midst of loud, roaring engines, partying and music all hours of the night? You deserve luxury amenities with solitude after a long day walking and talking amongst the hot rods and Bear Camp Cabins has exactly what you need to complete your vacation.