If you are a true cowboy or cowgirl at heart, you should definitely make plans to attend Saddle Up in Pigeon Forge, Tennessee! This yearly event offers a variety of cowboy-themed entertainment for adults and children of all ages. Bear Camp Cabin Rentals has put together a convenient guide with everything you need to know about this popular festival.
Saddle Up Dates and Location
The 15th annual Saddle Up is scheduled for Feb. 18-22 at five Pigeon Forge locations:
The LeConte Center at 2986 Teaster Lane

Clabough's Campground at 405 Wears Valley Road

Pottery House Café and Grille at 3341 Old Mill Street

Stages West at 2765 Parkway

Mama's Farmhouse at 208 Pickel Street
Free Events at Saddle Up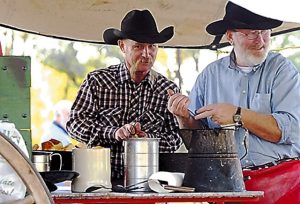 Events will kick off on Wednesday, Feb. 18, at 10 p.m., at the LeConte Center, with the Old Time Cowboy Songs symposium. Skip Gorman will entertain audience members with his fiddle, mandolin, and favorite cowboy songs.
Several other free events will also be offered throughout most days of this event. These include a swing fiddle class that invites participants to bring their own fiddle and learn some tunes from Paul Anastasio, and a dance class that encourages everyone to get on their feet and learn some western-style dancing.
The Tales and Tips From a Cowboy Cook symposium will showcase the cooking talents of Kent Rollins, and he will offer tips and tricks on grilling steak and chicken in cast iron cookware. A Saddle Up Sampler event is also scheduled on two separate days, which will feature a selection of excellent speakers.
For a full day of fun for the entire family, don't miss the Buckaroo Roundup that is scheduled for Saturday, Feb. 21, from 9 a.m. to 3 p.m., at Clabough's Campground. There will be plenty of live entertainment, an open mic, and a large variety of cowboy-themed activities for everyone to enjoy.
Cowboy Church will end the festivities on Sunday, Feb. 22, beginning at 10:30 a.m., at Stages West. Free shuttle bus service will be provided to this event from the LeConte Center.
Several evening dinner concerts are planned with different performers on each night, including Kent Rollins, Jean and Gary Prescott, Brenn Hill, Andy Nelson, and Wylie and the Wild West. Steak dinners will be served at each performance. Other scheduled concerts will also showcase the talents of Skip Gorman, Baxter Black, Wylie Gustafson and T. Scot Wilburn, and the Shut Up –N- Playboys.
Other activities include the opportunity to meet several Saddle Up artists, an authentic cowboy-style breakfast, cowboy stories, cowboy dance, and an exciting cook-off event with lunch.
To buy tickets and see a complete list of events, visit the official Saddle Up website:https://www.etouches.com/ehome/105813/235018/
Where to Stay in Pigeon Forge Near Saddle Up
At Bear Camp Cabins, we can provide you with a wonderful place to stay while you enjoy every day of Saddle Up in Pigeon Forge. Our cabins offer exceptional views of the Great Smoky Mountains, fully-equipped kitchen, hot tubs, pool tables, air hockey tables, internet access, fireplaces, big-screen televisions with DVD players, and so much more. We have an expansive collection of cabins in Pigeon Forge to choose from, so please just let us know if you would like a cozy cabin built for two or a large cabin that can accommodate the entire family. Give us a call today, and our friendly staff will be happy to help you select the best cabin for your needs!