If you're looking for the ideal romantic getaway for Valentine's Day, you should consider renting a one bedroom Pigeon Forge cabin in the Great Smoky Mountains. At Bear Camp Cabin Rentals, we can provide you with a cozy, secluded cabin where you and your sweetheart can bask in each other's company. Here are six ways to celebrate the holiday in one of our luxurious cabins:
1. Enjoy Our Heart Shaped Jacuzzi Tub
Our Cuddlers Paradise cabin features an incredibly comfortable and romantic heart shaped jetted tub that's just right for two people. What better way to spend an evening together than in a mountain cabin with a Jacuzzi? Cuddlers Paradise also features a gas fireplace, a charcoal grill, and stunning views of the woods and river. Guests will enjoy a spectacular location close to all of the best things to see and do in Pigeon Forge.
2. Take a Nature Hike Together
A walk in the woods gives you the chance to spend quality time together while getting fresh air and exercise. The Pigeon Forge area has endless possibilities for spending time outdoors, with gorgeous natural beauty just outside your cabin and proximity to the world famous Great Smoky Mountains National Park. Whether you take a short walk before breakfast or spend the whole day backpacking, exploring nature together is guaranteed to make your Valentine's Day even more romantic.
3. Cook a Romantic Dinner Together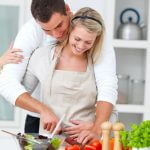 Our one bedroom cabins come with complete kitchens where you can prepare anything from a late night snack to a complete meal. There are a number of excellent restaurants in Pigeon Forge offering Valentine's Day specials, but some couples prefer to stay in and cook their own romantic dinner. Guests can find all of the ingredients they need at nearby grocery stores.
4. Go Horseback Riding
Another fun outdoor activity that lets you take in all the area's natural beauty is horseback riding. Five Oaks Riding Stables offers 60 horses and more than 70 acres of trails. If you want to plan a special romantic event, you can call ahead and arrange it. There are horses and trails for riders of all levels of experience.
5. Rent a Secluded Cabin With Your Own Private Lake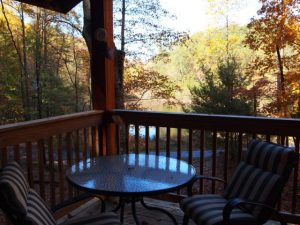 Our Alpine Joy cabin is located on six secluded acres and has its own private lake where you can go fishing or just enjoy the views. Featuring a fireplace, hot tub, and a covered deck where you can spend lazy mornings eating brunch, this cabin was made for a Valentine's Day vacation. Alpine Joy is surrounded by a national forest, so the only company you will have are some wild animals who live in the area!
6. Enjoy a Night of Great Entertainment
The Smoky Mountain area has plenty of excitement when you feel like venturing beyond your one bedroom Pigeon Forge cabin. Whether you take in a show at one of the area's spectacular theaters, or grab a drink at a local bar, you will never be bored in the Smokies.
To start planning your Valentine's Day adventure, check out our complete listing of one bedroom cabins in Pigeon Forge!