Fun Times at the Pigeon Forge Island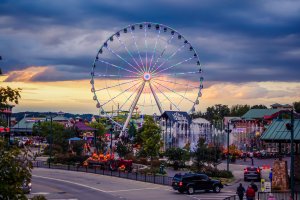 In the center of downtown Pigeon Forge, almost impossibly hidden behind a gigantic crime museum that used to be a two-story arcade and a hotel with Jimmy Buffet's name on it, is what is unquestionably the biggest and most popular attraction this city has seen this decade. Millions already know it as "The Island" and millions more have yet to experience it. If you're one of those yet to experience it, you could be asking "What's 'The Island'? Does Pigeon Forge have a tropical attraction now?" and the answer to that is "kind of, there's a story to it." And indeed there is, The Island is one of the more interesting attractions in Pigeon Forge not just for what it offers, but how it got there! The Island began as Belle Island Village and was originally going to be presumably smaller and closer to the river that cuts between the parkway and Teaster Lane. Belle Island Village started construction in 2008 and planned some very different types of attractions (I myself remember a rumor about a museum connected to Debbie Reynolds planned and further secondary sources saying Debbie herself showing up to do a conference about it), but early in construction, there were structural and financial issues that stalled production. This was right as the Great Recession of the late 2000s had begun and picked up steam, which drained out any hope of finishing the project.
For years, Belle Island sat empty and was sort of a joke around town for quite some time. Then in 2011, word got around that new owners had purchased it and were going to resume/rebuild it into "The Island". Again, many of us scoffed, thinking they surely did not learn the lesson The Island's predecessors learned and that it would be more vaporware for the town. Well, then 2013 came around and we all went to The Island's Grand Opening. And then we went back soon after that, and again soon after that, and further on for each new addition that quickly built up this unique town square and attraction village.
Now the only people you hear laughing are the squeals of kids and their siblings and parents as they thoroughly enjoy everything The Island has to offer them. It was definitely worth the wait and worth the restructuring to get it!
"So what makes The Island so great?" you might be asking as a follow-up. Man, where to start? In just 4 years, The Island has accrued quite a few varied and interesting elements, some of which you can't get anywhere else here, and holds local and visitor prestige almost on par with Dollywood. Here's how that came to be:
That gigantic colorized, hypnotizing Ferris wheel you see in the distance? That's the Great Smoky Mountain Wheel and it's on The Island. Not a fast or thrilling ride, but a ride that gives everyone in the family a great vertical lift to see the city around them from a literal birds-eye-view. Bonus points that each car at the Great Smoky Mountain Wheel being climate controlled and warm in the winter and cool in the summer.
The biggest and most convenient free parking lot in all of Pigeon Forge; maybe all of Sevier County! It's so big that it has its own tram system to pick up guests while the main trolley system connects to and from it on a regular basis. It's also adjoining the LeConte Conference Center and even has a walkway from The Island going directly to Patriot Park!
A big, electronically enhanced fountain that "performs" with synchronous music and lights every 30 minutes from 10:00 AM to 11:30 PM.
Restaurants that include Paula Deen's Family Kitchen, Margaritaville, Mellow Mushroom, Timberwood Grill, Dudes Daiquiris, Poynor's Pommes Frites and more.
Shops that include Ole Smoky Moonshine Distillery, The Paula Deen Store, Farmhouse 9110, Build-A-Bear, Blossom, Cosmic Pen, Earthbound Trading Company and quite a few more.
Special events that take place throughout the year for occasions like Christmas, New Years, 4th of July and others. Sometimes we even get special music performances by artists such as Billy Bob Thornton and his band.
The reason The Island is great is that it has more amenities and fun things than we can even list here. It overcame a lot to be what it is today and it provides even more than a lot for those who wish to check it out! See more on The Island at www.islandinpigeonforge.com.