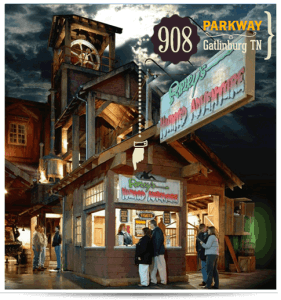 In 1999, Ripley's acquired property once known as the Grimsby & Streaper Casket Company. Although advised by locals that unnatural things went on inside, Ripley's began conducting tours of the former casket factory until decisions are made on how to better utilize this valuable location.
Now is your chance to visit the factory closed permanently in 1926 due to the strange disappearance of both company owners. Ripley's Haunted Adventure is a multi-million dollar, state of the art haunted attraction.
Live actors, special effects, freights and screams for everyone! Bring your friends here. There is safety in numbers! Please be advised that you are entering at your own risk and that Ripley's assumes no responsibility for your return!
Address: Traffic Light #8, 908 Parkway, Gatlinburg
Phone: 877-475-3974