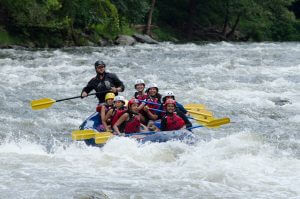 Big Creek Expeditions is the premier white water rafting company in East Tennessee. We offer experienced guides and an enjoyable time for all experience levels. Call today for rates and group discounts. Please feel free to contact us. We are located on the Pigeon River in Hartford, TN just off of Exit #447 I-40.
Welcome to our view of the Pigeon River, just outside of Gatlinburg, Tennessee. We're committed to great whitewater rafting experiences. We start with high quality equipment, energetic and knowledgeable guides, and combine them with your spirit for adventure to give you a great trip down the river.
As you may know, rapids rank on a scale of one to six. The Pigeon River has rapids at levels three and four. This guarantees lots of spray and excitement, suitable for beginners all the way to experienced rafters. Just picture yourself paddling through the rapids.
We'll spend an hour and a half on the river. This gives you time to get familiar with the way we navigate through the rapids. Our rafts hold up to seven people and children should be at least three for most courses and on some, eight years of age. Feel free to call us with any questions or safety concerns. We can't wait to give you a great ride down the Pigeon.
Web: Big Creek Expeditions
Toll Free: 877-642-7238.