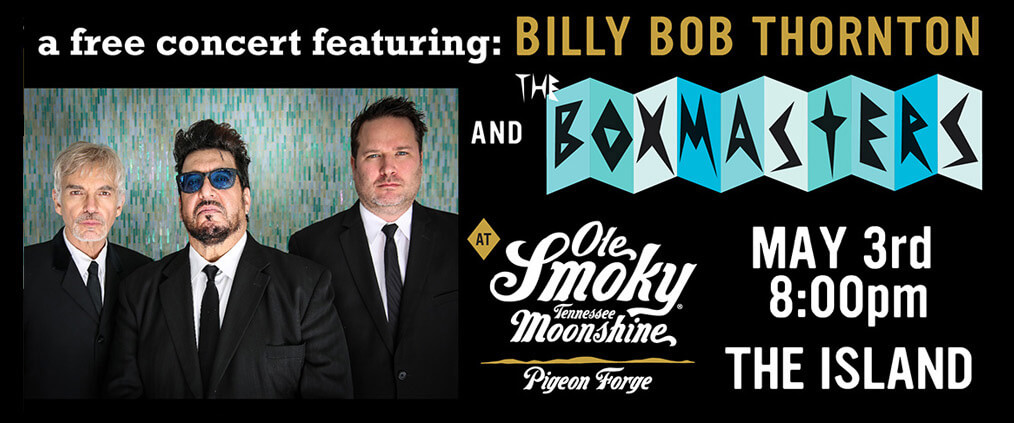 In the mood to see some celebrities in the Smokies this season? Then come to Pigeon Forge where this coming week we get the rare opportunity to showcase two highly talented, world famous stars that will be in town to entertain us for free!
On May 3rd at The Island in Pigeon Forge, Billy Bob Thornton & The Boxmasters will be performing a free concert in association with Ole Smoky Moonshine. You surely don't need to ask who Billy Bob Thornton is, you've undoubtedly seen him as one of the go-to actors for roles that require a Southern dialect and a raw, intense performance in Hollywood movies, Indie films, and TV shows: Sling Blade, Monster's Ball, Armageddon, Bad Santa, The Man Who Wasn't There, Princess Mononoke, The Alamo, Friday Night Lights, Fargo (the TV series) just to name a few of his roles. You also probably know he's been in Southern music behind a microphone almost as long as he's been in front of a camera, but might not know, until now, that's had his own band with The Boxmasters since 2007. We are incredibly privileged to have an artist of such caliber playing for us and for a free concert no less!
Billy Bob Thornton & The Boxmasters will be playing at The Island in Pigeon Forge from 8:00 PM to 10:00 PM. Come taste some Ole Smoky Moonshine while you're enjoying the show! And then on Cinco De Mayo, May 5th, 2017, one of our favorite Smoky Mountain citizens arrives for one of our favorite Smoky Mountain traditions of the season and year: The Dolly Parton Homecoming Parade!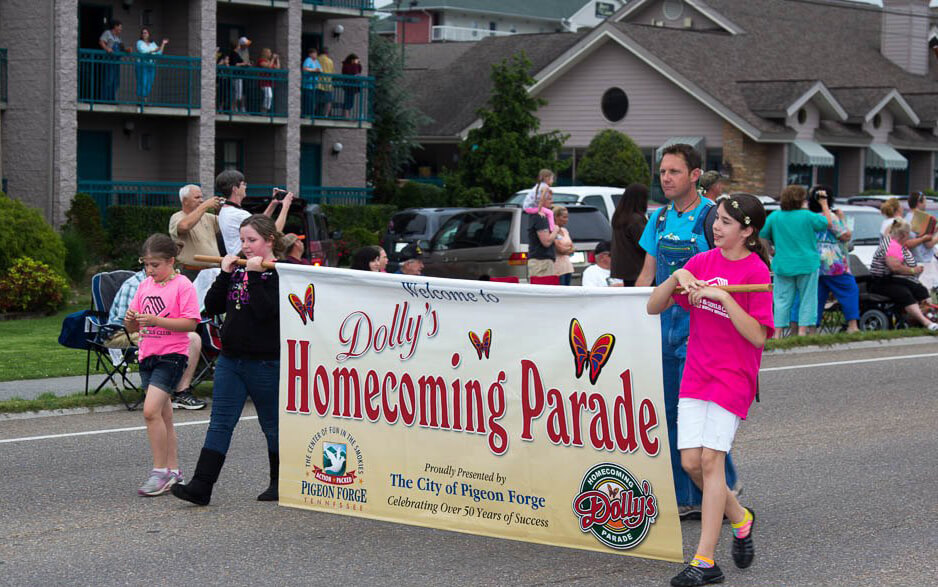 For those who haven't been to one of our favorite traditions before, this isn't just a fun name to a big, fun parade, Dolly Parton herself returns to the city and acts as the Grand Marshal for the event. She's been doing this every year for decades as a way to show her support to her Smoky Mountain home and we always enjoy getting to see here again!
Following her will be more than an hour of parade fun as many businesses local and from surrounding cities and counties show up and march, drive, float or even skateboard (or something similar) down the main parkway of Pigeon Forge and provide some really creative forms of amusement and advertising. Some will be playing music as they go down the street, either blasting them from a stereo system, playing them as a marching band or even playing them as a BLUEGRASS band as they go down the street! It's every bit as fun as it sounds and of course, it would be a great event to bring the kids to!
These are both great reasons to visit the Smokies this week – and if you need a third great reason to come into our neck of the woods, reserve a cabin from us! No matter what or where your interests lie for a great Smoky Mountain vacation, we've got a cabin convenient to and perfectly fulfilling for your vacation needs!
See our cabins at