Coffee, Coffee, Coffee Shops In the Smokies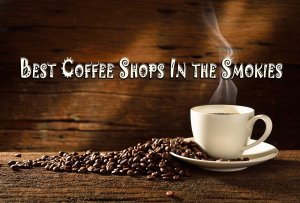 Who doesn't love to stop at a coffee shop in the Smokies while visiting a town on vacation? That's part of what makes a vacation worth the effort! For those who seek relaxation in the Smokies, the entries on the following list make for a great visit while out and about as a wake-up for the morning, a high-class treat, a place to chill for a bit and check email or pop open a book… there's so many different ways to enjoy a coffee shop that it justifies the article we have for you here!
We included the ones that are far more of the unique/local variety than a total sum list, one could easily guess we have 4-5 Starbucks within a reasonable range of driving, and include them for Pigeon Forge, Gatlinburg, Sevierville, Wears Valley and Townsend. We hope you enjoy!
159 E Wears Valley Rd #13, Pigeon Forge, TN 37863
(865) 908-3713
---
5120 The Island Dr, Pigeon Forge, TN 37863
(865) 366-1170
---
3331 Old Mill St, Pigeon Forge, TN 37863
(865) 366-3500
---
3526 Parkway, Pigeon Forge, TN 37863
(865) 365-1700
---
2005 Wears Valley Rd, Sevierville, TN 37862
(865) 446-4673
---
332 Parkway, Gatlinburg, TN 37738
(865) 436-9625
---
511 Parkway, Gatlinburg, TN 37738
(865) 325-1215
---
634 Parkway, Gatlinburg, TN 37738
(865) 436-0888
---
634 Parkway #13, Gatlinburg, TN 37738
(865) 430-3650
---
716 Parkway, Gatlinburg, TN 37738
(865) 277-9043
---
1001 Parkway, Gatlinburg, TN 37738
(865) 436-5423 ext. 146
---
* Grannys Sweet Blend Cafe *
446 E Parkway, Gatlinburg, TN 37738
(865) 325-1250
---
446 E Parkway #4, Gatlinburg, TN 37738
(865) 436-6967
---
5464, 601 Glades Rd # 21, Gatlinburg, TN 37738
(865) 325-1777
---
555 Buckhorn Rd, Gatlinburg, TN 37738
(865) 436-3808
---
2650 Upper Middle Creek Rd, Sevierville, TN 37876
(865) 429-5804
---
1297 Dolly Parton Pkwy, Sevierville, TN 37862
(865) 774-6683
---
1235 Dolly Parton Pkwy, Sevierville, TN 37862
(865) 453-2233
---
118 Bruce St, Sevierville, TN 37862
(865) 446-2343
---
160 Court Ave, Sevierville, TN 37862
(865) 286-9073
---
190 Collier Dr, Sevierville, TN 37862
(865) 908-8994
---
3103 Laurelwood Ln, Sevierville, TN 37862
(865) 366-7121
---
3275 Wears Valley Rd, Sevierville, TN 37862
(865) 366-2608
---
4143 Wears Valley Rd, Sevierville, TN 37862
(865) 366-2263
---
8027 E Lamar Alexander Pkwy, Townsend, TN 37882
(865) 336-2972
---
8213 TN-73, Townsend, TN 37882
(865) 738-3213
---
7807 E Lamar Alexander Pkwy, Townsend, TN 37882
(865) 448-9433
---
7621 E Lamar Alexander Pkwy, Townsend, TN 37882
(865) 448-8887